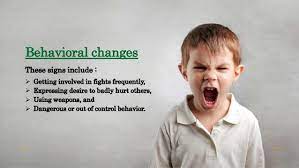 WARNING SIGNS OF MENTAL ILLNESS IN CHILDREN
Although you can see red flags, it is difficult to distinguish between warning signs of a problem and normal childhood behavior.
It is usually for adults in children's health to identify any sign of a problem in children's health. One might think that all children experience these symptoms at some point in their lives and not all suffer from mental illness. Yes, but it is possible that they are experiencing a certain problem and these symptoms can be a direct indication of what is happening in their lives. Therefore, it is important to pay attention to these symptoms.
Emotional changes
Children do not have complete understanding and control of their emotions. Mood swings are one of the first signs of trouble. Look for feelings of sadness and withdrawal for at least 2 weeks or a change in mood that causes problems at home or at school.
Strong emotions
Mental disorders can be seen in the form of deep emotions. The child may be very nervous or seem overly concerned and anxious which may interfere with daily activities.
Weight loss / unexplained gain
Sudden weight loss or weight gain may be an indication of a mood disorder. While, unexplained weight loss, regular ***** or laxative use may indicate an eating disorder.
Dr Mamta Jain – explains the various warning signs of mental illness among children
It's hard to focus
Look for signs if you have trouble concentrating and staying still. These symptoms can be easily seen as they can lead to poor performance in school.
Physical symptoms
Children show more physical symptoms of mental problems than adults. Pay attention to symptoms such as frequent headaches, stomach aches, loss of energy that may indicate anxiety or emotional disturbances.
Physical injury
Sometimes a mental health condition can lead to self-injury or self-harm. Beware of any unexplained injuries such as cuts or burns. Children with mental health problems can also develop suicidal thoughts and tendencies.
Dr Mamta Jain – explains the various warning signs of mental illness among children
Behavioral changes
Problem behavior, personality changes or engaging in risky behaviors and unruly behavior are some of the warning signs.
Drug abuse
Most of the time, when a child is unable to cope with their emotions, he may move on to something else. Children can also take drug use because of peer pressure or bullying. Pay attention to your child's surroundings and friendships.
If you appear to be warning signs, your child may be facing some problems. Contact an experienced psychiatrist for a clear picture of the problem and deal with the problem successfully.
To learn more about Dr Mamta Jain Click here
Dr Mamta Jain is one of the India's Top Psychologist and Best Psychologist. She is Top Ten Psychologist of India. She has 22 years plus experience in the field of Psychology and she has achieved the honor of being awarded Gold Medal. She is not only gold medalist but she is topper in University in Special Education. She is renowned Psychologist, Top Psychologist in India and Special Educator.
#hyderabad #telangana #secunderabad #andhrapradesh #bangalore #raipur #kota #mumbai, #international
#distancelearning2020 #thepsychologyclinic #counseling #relationshipcounseling #mentalhealth #cbt #psychologycourse #psychology #happiness #learning #psychotherapy #counselor #therapist #internshipopportunity #internshipinpsychology #iep #specialneeds #specialeducation #depressionhelp #anxietyrelief #mamtaagrawaljain #childcounseling #developmentalmilestones #arttherapy