EASING THE BURDEN OF CARE
When a person is sick, either mentally or physically it becomes very difficult for him to manage everything. However, it is a very difficult task for the caregiver. It becomes a difficult and stressful task for a caregiver to care for a sick person.
Dr. Mamta Jain – Talks about Easing the Burden of Care
Thus, it may also increase the risk of major depression, anxiety, or depression for a caregiver. Also, because of this stress, the caregiver slowly moves closer to recovery. However, the caregiver is always reluctant to delegate their duties, because they feel like, no one else will be able to handle this situation as well as possible.
Therefore, below are some suggestions on how to reduce the burden of caring for your caregiver:
Recharge:
While caring for someone, it is best to take a break. One needs to keep one's well-being in mind while caring for another person. Many people refuse to take breaks because after that they feel guilty. However, there is nothing to blame for it because it benefits you and their well-being.
Restrictions:
When we care for someone we often forget our limitations. We usually donate 100 percent of everything we do. So, keep creating an impossible list. It is very important to know our limits and know what we can and cannot do. You can also take the help of a family member if you are not able to set limits.
Dr. Mamta Jain – Talks about Easing the Burden of Care
Proper sleep and diet:
More often than not, the most effective place for the caregiver is their eating and sleeping habits. While caring for someone, we forget to take care of ourselves, and most of the night we cannot sleep or often skip meals a day. However, it is very important to eat a balanced diet and sleep well while caring for someone else. It keeps your energy renewed and you can focus on the process of better care.
Shift rotation:
One of the best ways to reduce the burden of care is to exchange. If someone is sick, it is not your responsibility to care for that person. When each member of the family takes turns caring for that person then he or she does not feel pressured by just one person. Therefore, to separate tasks and be able to help a person in the best possible way.
Check out some other options:
It is very difficult for a person to provide care for a loved one. However, it is important to look at professional options. Also, when looking for technology options it is best to make the decisions of the person receiving care. It is also very important to do a complete check for the agency you are hiring. Hiring a specialist will lower your stress levels and help the person receiving care.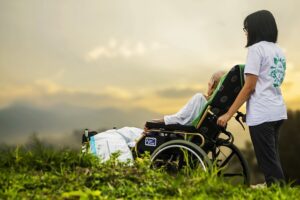 Dr. Mamta Jain – Talks about Easing the Burden of Care
It is hard work and very stressful to take care of loved ones. However, it is best to take a break for yourself. However, if you think you are caring for someone and you feel very stressed, it is not a bad option to seek professional help.
To learn more about Dr. Mamta Jain Click here
Dr. Mamta Jain is one of India's Top Psychologists and Best Psychologists. She is a Top Ten Psychologist of India. She has 22 years plus experience in the field of Psychology and she has achieved the honor of being awarded a Gold Medal. She is not only a gold medalist but she is a topper in University in Special Education. She is a renowned Psychologist, Top Psychologist in India, and Special Educator.
#hyderabad #telangana #secunderabad #andhrapradesh #bangalore #raipur #kota #mumbai, #international
#distancelearning2020 #thepsychologyclinic #counseling #relationshipcounseling #mentalhealth #cbt #psychologycourse #psychology #happiness #learning #psychotherapy #counselor #therapist #internshipopportunity #internshipinpsychology #iep #specialneeds #specialeducation #depressionhelp #anxietyrelief #mamtaagrawaljain #childcounseling #developmentalmilestones #arttherapy